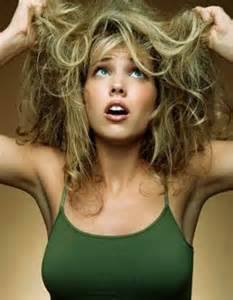 By taking these simple steps before entering you can prevent hair from becoming bleached, dry and damaged – or worse, green.
The quickest way to guard against chlorine damage is to thoroughly soak your hair in fresh water before swimming, where I live our town water is heavily chlorinated so I just use bottled water, the water will saturate your hair and swell each strand, preventing it thirstily soaking up the chlorine-laden water. This method is not ideal, especially if you will be swimming for an extended period of time or hopping in and out of the water; but it is quick and requires no special ingredients.
Oil keeps out chlorinated water more effectively than fresh water. Use a light coating of hair oil on wet hair or a slightly heavier coating on dry hair.
A very small amount of leave-in conditioner does the same job.
Swimming caps don't always keep hair bone dry, but they do help. Soak and/or oil your hair before putting the swimming cap on – it seems counterintuitive, but it's a double layer of protection.
Swimmers will rarely be able to prevent a little chlorine from coming in contact with their hair. After swimming, wash the chlorine away. Plain water will do in a pinch, but a clarifying shampoo is best for removing chemical buildup. To avoid stripping the hair, don't clarify every day; but after occasional swims or a week of solid swimming it may be a good idea. If you don't have a clarifying shampoo, a teaspoon or so of baking soda mixed into regular shampoo will do the trick. Follow with a vinegar rinse to restore the pH balance of your hair.
The most obvious solution is to keep your head above water! If you don't plan to put your head under in the pool, wear a high ponytail or bun and prevent chlorine from touching your hair in the first place.